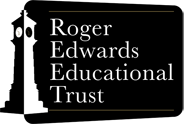 If you are interested in applying to receive funding from the Roger Edwards Educational Trust, please fill in the short form below.

Please Note:
The Trustees meet four times a year to consider applications. Applications will be read by the Board of Trustees, the Trust Secretary and potentially the Charity Commission. Your information will be retained for an indefinite period for Charity Commission Audit purposes.
Deadlines for applications are:
1st January
1st April
1st July
1st October
Please be aware that it can take up to six weeks from the deadline for a decision to be reached. Retrospective applications will not be considered.
Note: Please ensure you include as much information as possible.
Applicants under 18 years of age must provide written permission from a parent or guardian.
First Degrees
The Trustees will not normally consider helping with the basic costs of a first degree, because an existing system of student loans (and in some cases grants) exists to cover these.  However, we do not rule out helping with costs over and above those that undergraduate students on first degrees are normally required to meet.  This, for example, may include field trips, unpaid placements or semesters abroad which students are expected to finance themselves and for which additional funding through the loan and grant system is not available.
Postgraduate qualifications
The Welsh Government has recently announced changes to funding support for students wishing to undertake postgraduate qualifications. We will be considering these changes and will update this page shortly when we are able to advise on our policy towards supporting postgraduate applications to the Trust.
Agricultural and related Land-based studies
Students who are attending the Coleg Gwent Usk campus, or undertaking courses at other institutions, as students of agriculture or related subjects should apply to the Monmouthshire Farm School Endowment Trust Fund (MFSET) direct.
An application form can be downloaded from http://www.monmouthshire.gov.uk/student-finance in the section headed Monmouthshire Farm Endowment Trust Fund.
REET's Trustees will not normally consider applications from anyone who meets the criteria for a grant from MFSET.
Usk Farmers' Bursary Club
Usk Farmers' Club offer an annual Bursary for land-based studies.
Click Here to Download Application Details.
By completing the form below you agree to your details being held electronically, and in paper form by the Roger Edwards Educational Trust. Your data will not be passed on to any third parties with the exception of the Charity Commission.